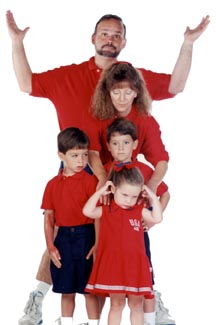 SHARE THIS WORLD with Jim Rule – Parents' Choice Award winning recording artist, teacher, songwriter, husband of one, and father of three offers fun for all.
(Although finding that perfect pose for an album cover is not always fun! These are The Rules from top to bottom – Jim, Jody, Casey, Tim, and Emma in the photo session for the album cover of LET IT SHINE – collection of songs including "The Telephone Twist", "Because I Said So!", and "The Gingerbread Girl.")
He has performed across North America and Europe. His songs are heard widely on radio and television. Featuring songs and stories in a variety of styles ranging from toe tapping tunes to inspirational anthems, his lyrical voice and warm sense of humor will make children and grown-ups alike smile and sing along. Whether joined by his own children or special guest stars from the audience, Mr. Rule shares the joy of family, friends, faith, and fun. Even his album titles spell it out clearly –
SHARE THIS WORLD / LET IT SHINE / LIKE A STAR / TOO MUCH FUN!
With song and dance, sign language, a little Spanish, some special monkey business, and lots of laughs. Come and enjoy "The Golden Rule" and join the celebration of everything we share with "all God's creatures great and small."